Is NEET PG/NExT a Realistic Approach to Reaching Your Goals?
50 Percentile is the standard cutoff for the NEET PG.
Half of the doctors who appear for the exam are left wondering are they qualified enough, good enough, or made the right career choice.
11 Percentile is the specialization cutoff for NEET PG
The remaining 39% who made the standard cutoff are still left doubting their career choice.
2 Percentile top Rankers get to select the specialization of their choice.
The remaining 9% who get the top ranks still cannot pick their specialization.
Medical/Dental PG in Germany paves the pathway for super specialization that can last five to six years for doctors and three to four years for dentists depending on the specialty. The good news is that it is a remuneration-based on-the-job training very much like the residency program in the US. You work as a registered doctor/dentist on a blue card before starting your Medical/Dental PG in Germany.
And all this without any competitive MCQ-based clinical exams and no compromise on your choice of specialization.
You get what you want - So what else do you want?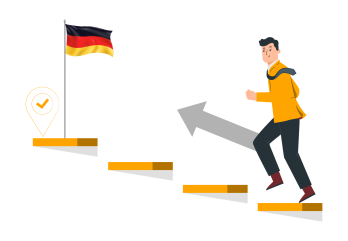 MissionGermany offers a comprehensive range of integrated services to doctors, dentists, and pharmacists from India and abroad with employment and Medical/Dental PG opportunities in Germany.
We assist you with the entire step-by-step process that is personalized according to your individual requirements. Right from counseling, registration, language learning, documentation, recognition, visa approval, employment interviews, Medical/Dental licensing (Approbation) to continued Medical/ Dental PG in Germany.
Our qualified team of experts and professionals, both in India and Germany work relentlessly to ensure a positive outcome in every single case. Our successful experience gives us the confidence to follow a proven repeatable process through which we take concrete action to initiate your Medical/ Dental PG in Germany and secure employment for you. MissionGermany opens the door for you to make this journey pleasant and smooth.
Why Medical/Dental PG in Germany is an Achievable Option for Indian Doctors?
1.
The prerequisites of becoming a specialist doctor/ dentist in India are not just expensive and extremely difficult but the odds of succeeding are particularly scarce. This happens because the systems in India and Germany are poles apart.
In India, you earn your Medical/Dental license after completing your medical/dental studies with a compulsory internship. This does not necessarily assure you a seat for medical/dental specialization. You must go through very competitive MCQ-based exams of NEET-PG/NEET-MDS and NEET-SS and very soon NExT to be a super-specialist in India. Only the top 7 percentile of the aspirants get to become a super-specialist (DM/MCH) in India.
2.
Germany on the other hand offers a permanent medical license (called Approbation) that guarantees you becoming a doctor with super specialization. Good command of the German Language is the only prerequisite to earning a license to practice medicine in Germany.
For this, you must qualify German Language and the Medical German examination to get a permanent license to begin your fully paid super specialization training. The German language is very much like English, so learning The German language for Indian doctors is not that big of a challenge.
3.
MissionGermany does a thorough evaluation of your academic records and initiates the documentation process for completing the application for medical licensing in Germany.
After receiving the necessary approvals (Defizitbescheid) from a specific State Medical Council, you travel to Germany to continue your advanced German language training as well as prepare for the Medical German language courses. Once you clear the verbal qualifying assessment exams of Fachsprachenprüfung (FSP) you start working on a temporary license with a salary and after qualifying Kenntnisprüfung (KP), you are granted a permanent medical license to start your Medical/Dental Specialization in Germany.
DEFINE SUCCESS ON YOUR TERMS, WITH NO COMPETITIVE EXAMS
The time and financial investment directly go towards getting a job followed by Medical/ Dental specialization in Germany.
German vs Indian Medical Training
| | | |
| --- | --- | --- |
| | | Competitive MCQ based Entrance Exam |
| | | |
| | | Based on Your Rank or Pocket |
| | PG years Counted as Experience | PG Period Counted as Study time. |
| | Integrated PG + Super Specialization | |
| | Stable Life before the Start of PG | Struggling on a stipend during PG |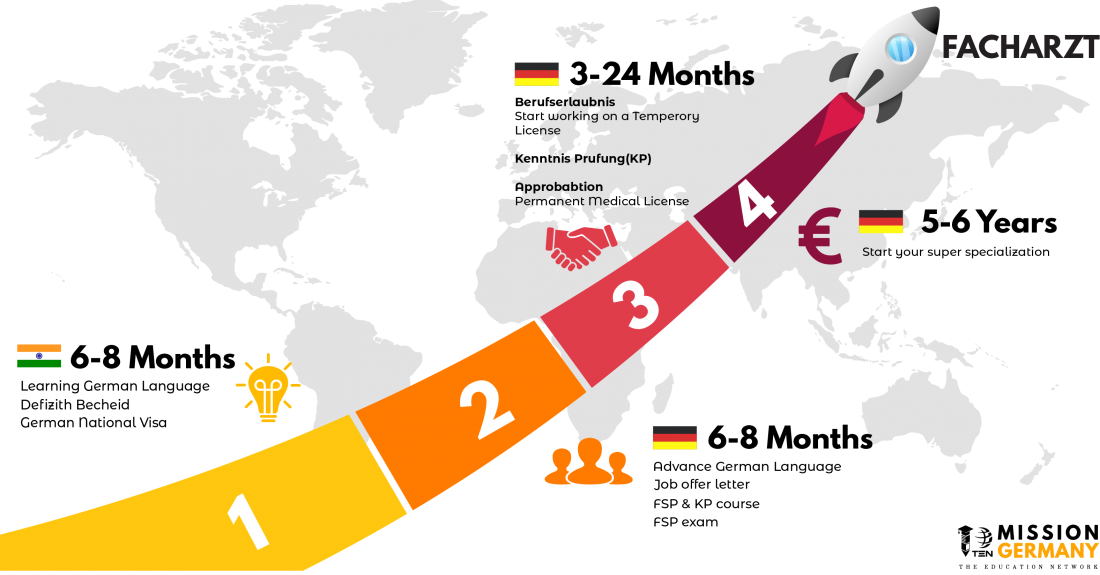 PARTICIPATE IN A HIGHLY EFFECTIVE GERMAN HEALTHCARE SYSTEM
The healthcare system in Germany is known to be exceedingly efficient as compared to other countries. Such a high level of care is possible because of advanced medical procedures and apparatus. The public health service is always expanding with over
4,00,000 doctors
to ensure that patients are well cared for. Nearly
56,107 foreign doctors
are working in Germany of which nearly
29,000 are from Non-EU countries
. During the last decade, the number of international doctors working in Germany has increased significantly. If we just look at 2019 data, 9,309 overseas doctors applied to have their foreign qualification recognized as an equivalent to a German qualification. Next to other occupations of health care workers and nursing staff, doctors hold the second position with the highest number of applications.
By being a doctor in Germany, you will be open doors to a range of professional options like being an employee in hospitals, clinics, healthcare centers, geriatric care services, or home health care services. You may even set up your clinic or pharmacy. Some other options could be doing medical research and teaching, joining public health departments, health insurance organizations, and the private sector. You can even work as a scientist in medical technology or the pharmaceutical industry. Doctors in Germany have the best remuneration as compared to any other profession.
WHY IS GERMANY A RIGHT CHOICE FOR DOCTORS/DENTISTS?
EVERY CHOICE YOU MAKE, MAKES YOU
Germany is extremely popular in the Doctors' Community as it offers Overseas Doctors to complete specialist training in Germany as well as the security of settlement. This is made possible through the EU-Blue Card Program, the Visa for highly qualified professionals. A doctor in Specialist Training receives a Salary (not a stipend!) and is treated as an employee with a Job, which entitles the doctor/dentist to this special category of Visa.
After 21 months of EU-Blue Card, the doctor/dentist becomes eligible to acquire Permanent Residency in Germany.
QUALITY OF LIFE
If you want to live your dreams, Germany is the place. With the easy cost of living, working hours, the value of labor, dedicated free weekends and a guarantee of spouse VISA on a Blue card you cannot ask for more.
REMUNERATION
Known worldwide as the best paymasters in Europe, German Clinics and private hospitals offer competitive salaries ranging from €4,900 to € 5,200 per month which is at par with the latest collective agreement, or the union pay scale.
TECHNOLOGICAL EXPOSURE
The doctors get an opportunity to work in the most technologically advanced and prestigious hospitals and medical centers in the European Union even before acquiring the permanent medical permit "Approbation" from a German board.
GERMAN MEDICAL TRAINING SYSTEM
You are paid to be a Super-specialist in Germany. Germany offers an integrated pathway for Super specialization without any competitive MCQ-based exams, and the flexibility of choosing a specialization of your own choice with no compromises.
OPPORTUNITIES DON'T HAPPEN, YOU CREATE THEM
Top specialization options in Germany
Internal and General Medicine

Anesthesiology

Neurological diseases

General Surgery

Orthopedics Surgery

Gynecology and Obstetrics

Dermatological and Venereal Diseases

Oral and Maxillofacial Surgery

Pediatrics

Radiology

Ophthalmology

Neurosurgery
JET START YOUR CAREER
We offer end-to-end services to make your career possible.
1.
FEW PRE-REQUISITES FOR DOCTORS
Your education and training as a foreign medical graduate, must be recognized as equivalent to the German education and training program for doctors/dentists to get 'Approbation'. 'Approbation' is an official license that allows you to practice medicine/dentistry without restrictions in Germany.

While applying for a license ('Approbation') or professional authorization to practice medicine in Germany, you must submit proof of physical fitness, personal suitability, and sound knowledge of the German language.
ADDITIONAL DOCUMENTS REQUIRED FROM INDIA:
Police Clearance Certificate

Birth Certificate

Passport
2.
MANDATORY DOCUMENTS FOR EQUIVALENCE AND RECOGNITION OF QUALIFICATION
Before applying to Germany, one should make sure that their degree is recognized through www.anabin.kmk.org. This applies to those who have completed their medical studies at a recognized university, outside the European Union.
After being recognized by Anabin, the doctors must have:
Completed the internship, concession period, or training year in the country of origin or from the country of graduation.

A medical permit (permanent license) in the country of origin or from the country of graduation.

A proficiency up to B1 or B2 level of German language according to the framework set by CEFR (Common European Framework of Reference for Languages).
3.
ACADEMIC REQUIREMENTS FOR MEDICAL PG IN GERMANY
To get a permanent license to practice medicine in Germany('Approbation'), one should have a medical degree as well as a license to practice medicine independently in your study country or home country. The academic certificates required for MBBS/BDS Degree Certificate (Or Equivalent) are:
Medical Council Registration Certificate (Study Country/Home Country)

Internship Completion Certificate

Good Standing Certificate

Syllabus/Curriculum (Personalized) from the University
4.
DOCUMENTS REQUIRED FROM GERMANY


Notarized Copies of Originals Documents

Medical Certificate

Attested Translations of all Documents by a certified translator from Germany

Confirmed admission letter from a government recognized language school

Confirmed admission letter for FSP course

Defizitbescheid

VISA

Job Offer (Stellenz usage)

Confirmed admission letter for KP course
MissionGermany offer flexible and versatile services and plans that are focused on establishing international medicos and students in a German set up, by providing simple, achievable, and quick solutions.
We empower doctors, dentists, designers, engineers, students, and academicians to come study, work and specialize with expertise in Germany.